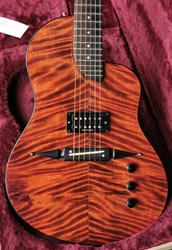 Rick Turner USA Renaissance Steelstring Acoustic with PAF
€
2.490
,
00
This is a very special order Rick Turner. It has a spectaculaur flamed top and a PAF pickup, so besides its acoustic sounds this guitar can also be sued for blues, rock, jazz etc. Very versatile high-end very well built instrument. Thinline body is built like a fine acoustic guitar, but with an added cedar center block to cut feedback. A Turner Timberline piezo bridge pickup feeds full-spectrum signals to an 18-volt D-TAR Eclipse pre-amp.
Constructed like true acoustic instruments, with bent sides and a braced tone wood top and back, the Renaissance series truly represents the best way to achieve acoustic tone plugged in.
The construction feature that sets our instruments apart is the Western Red Cedar center block that prevents feedback and yet provides an acoustically live foundation for the D-TAR Wavelength preamp and Turner Timberline pickup system.
All Renaissance Series instruments feature D-TAR Eclipse, 18-volt preamp and our own Turner Timberline coaxial piezo pick-up system which produces a full-frequency amplified acoustic tone. Our unique instruments are perfect for recording and live performance under any conditions, and they have proven roadworthy around the world.
Please follow RJV Guitars on the links below for daily updates on new arrivals:
https://www.facebook.com/rjvguitars/
https://www.instagram.com/rjvguitars/
https://www.youtube.com/channel/UC6cy3aWO7qbgYwiLAFPioVw/videos