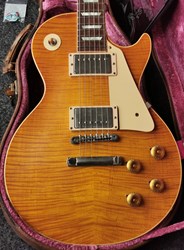 Gibson Les Paul Standard 1959 Rick Nielsen Aged & Signed Ultra Light 3,6kg
€
13.500
,
00
Here is a very collectable Gibson Custom 1959 Burst with an amazing weight of 3670 gramms. Made in a limited number, this is the 1959 Les Paul reissue, painstakingly re-created from Cheap Trick guitarist Rick Nielsen's favorite electric guitar. Nielsen is a highly regarded guitar collector with hundreds of instruments in his stable. His '59 is his favorite, and it still travels with him everywhere. The Gibson Rick Nielsen '59 re-creates that guitar's distressed look, feel, and tone so accurately that Rick is even willing to now keep the original at home. And this Rick Nielsen '59 is hand signed by the riff-master himself.
Gibson Custom Rick Nielsen 1959 Les Paul at a Glance:
Re-making a prized possession

Every detail re-created

Aged to perfection
Re-making a prized possession
Over 25 years ago, Rick Nielsen of Cheap Trick came into possession of a very special 1959 Gibson Les Paul. The guitar quickly became a favorite of his and has never left his side since that time. Gibson Custom went over every inch of the original guitar to offer Rick, and a very limited number of players, a spot-on re-creation of the instrument. With an attention to detail that simply has to be experienced to be believed, the Gibson Custom team built an instrument that is so good and so close to Rick's prized possession that Rick will be retiring the original and traveling with one of these.
Every detail re-created
Rick Nielsen is an avid guitar collector. So much so that he even runs his own rock 'n' roll museum showing some of his finer pieces. So the Rick Nielsen 1959 Les Paul had to be absolutely perfect for him to be this happy with it. Gibson Custom outfitted the guitar with a pair of Custom Buckers that exactly re-creates the famous vintage PAF pickups found in his original '59. The guitar's body is made from a single solid piece of mahogany. And even the nylon nut material is exactly what you'd find on Rick's personal guitar.
Aged to perfection
The Gibson Custom Shop aged the instrument so that, even under a discriminating eye, you wouldn't be able to tell the difference between it and Rick's guitar that proudly displays over 50 years of use and wear. The rolled fretboard edges feel like a well-broken-in guitar. Every ding and scratch is accounted for. And the finish is specially made to show the characteristic fading that great nitrocellulose displays over time. Only 50 of these guitars are available worldwide, and not even Sweetwater knows if we'll get another one. Act now!
Gibson Custom Rick Nielsen 1959 Les Paul Features:
Les Paul built to the specs of Rick Nielsen's 1959

Aged to look and feel exactly like Rick's original

Custom Bucker humbucking pickups are re-creations of vintage PAFs

Only 50 of these are being hand signed by Rick Nielsen of Cheap Trick

Aged Nielsen Burst nitrocellulose finish

1-piece mahogany back

Hand-rolled fretboard edges
Please follow RJV Guitars on the links below for daily updates on new arrivals:
https://www.facebook.com/rjvguitars/
https://www.instagram.com/rjvguitars/
https://www.youtube.com/channel/UC6cy3aWO7qbgYwiLAFPioVw/videos