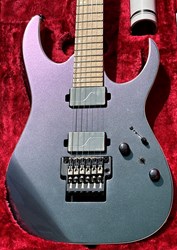 2023 Ibanez Prestige RG5120 Polar Light Unplayed Mint
€
1.590
,
00
Here is a mint unplayed 2023 Ibanez Prestige RG5120 with the stunning Polar lights finish. Changes color from diferent angles. When it comes to sheer performance, not many electric guitars can better the cutting-edge design of an Ibanez RG Prestige. It's an instrument with virtually zero limits, making it a popular weapon of choice among virtuosos and metal masters who aspire to push the musical boundaries.
The new Ibanez RG5120M-PRT takes the legendary formula a step further. Featuring the famously-thin 'Super Wizard' neck profile, guaranteeing lightning-fast playability, this electrifying guitar also comes equipped with ultra-versatile Fishman Fluence Modern humbuckers and the exquisitely-ergonomic Ibanez Lo-Pro Edge tremolo system.
Key Features
African Mahogany Body — Underpins the instrument with a rich sound; warm in the lows with a thick mid-range.
Super Wizard HP Maple/Wenge Neck — Legendary Ibanez neck profile lets you play at lightning speed, especially with the silky-smooth satin finish! 5-piece layered neck construction increases stability.
Birdseye Maple Fingerboard — Has a unique wood grain and yields a well-balanced tonal character from low to high-end.
Jumbo Stainless Steel Frets — Resistant to corrosion for life-long performance. Wide and tall fret-wire provides a quick response and effortless articulation when playing chords or single notes.
Luminescent Side Dots — Glow-in-the-dark markers let you always know where you're at, even on the darkest of stages!
Fishman Fluence Modern Ceramic Humbuckers — Deliver an aggressive tone and a powerful attack without excess noise.
Fishman Fluence Voicing Switch — Allows the pickups to switch from a modern, active high output tone to a crisp, clean and fluid sound.
Lo-Pro Edge Tremolo — Offers maximum playing comfort with its streamlined profile and recessed fine tuners. Locking design ensures incredible tuning stability, even after the most dramatic of dive-bombs!
Gotoh Machine Heads — Superbly precise with a smooth feel and minimal back lush.
Included Hardshell Case — Provides rock-solid protection for the instrument.
Please follow RJV Guitars on the links below for daily updates on new arrivals:
https://www.facebook.com/rjvguitars/
https://www.instagram.com/rjvguitars/
https://www.youtube.com/channel/UC6cy3aWO7qbgYwiLAFPioVw/videos