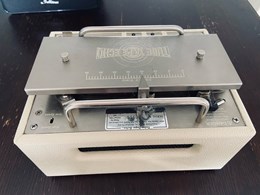 Fulltone Tube Tape Echo with Extra Tape and Bag
€
2.290
,
00
This Fulltone Tube Tape Echo is in excellent condition and in perfect working order, complete with the original padded carry case and 2 tape cartridges. Now discontinued, the Fulltone TTE was designed as a modern recreation of the legendary Echoplex EP-2, one of the most celebrated tube-driven tape delays of all time. This unit was handbuilt and handwired in Los Angeles, CA.
The Fulltone TTE excels at delivering the warm, saturated classic tape delay textures of the original Echoplex in a modern, robust package perfect for studio and stage use. The tube complement includes 2x 12AX7 and 1x 12AU7 tubes. The Tube Tape Echo adds some practical, user-friendly features lacking on vintage Echoplex units including stereo output, an intelligent torque-adjusting DC-powered transport motor, true bypass functionality, independent Echo and Instrument Volume controls and a Tone control for the Echo. There is a two-way High Speed/Low Speed switch for toggling between a more HiFi signal and vintage warmth. Additionally, Fulltone utilized modern, high-quality tape and heads, a toroidal transformer, and filaments run on 12VDC for the lowest possible noise floor on an authentic tube-powered tape echo. This unit is notably well-kept, with barely a mark on the white tolex or brushed aluminum control plate.
The original Fulltone-branded padded carrying case is included.
Please follow RJV Guitars on the links below for daily updates on new arrivals:
https://www.facebook.com/rjvguitars/
https://www.instagram.com/rjvguitars/
https://www.youtube.com/channel/UC6cy3aWO7qbgYwiLAFPioVw/videos