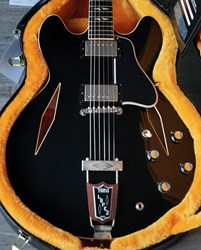 Gibson Custom Shop Historic Collection '64 Trini Lopez 2021 Reissue VOS
€
3.990
,
00
Here is a wonderfull 2021 Gibson Trini Lopez 1964 Historic Reissue. Based on thorough scans of the coveted original models, the 1964 Trini Lopez Standard Reissue gives you an authentic vintage ownership experience from the chunky '64 neck profile to the unique trapeze tailpiece. "The Gibson guitar that was inspired by Trini Lopez is as exciting as the young performer who helped create it," reads one of Gibson's original 1960s advertisements. While Trini Lopez sadly passed away in August 2020, he continued to perform with his namesake model into his 80s, and the model is also favored by many other famous musicians from Dave Grohl to Noel Gallagher. Offered in Ebony finish.
Body: 3-Ply Maple / Poplar / Maple Neck: Mahogany Fingerboard: Indian Rosewood Neck Joint: Set Neck Number of frets: 22 Pickups: HH / Custom bucker Alnico III (Unpotted) × 2 Weight: 3.55kg Color: Ebony
The guitar is now equpped with OX4 PAFs but the original Custombuckers are included. The guitar has some light finishear, but ovrall in very goo condition.
Please follow rjvguitars on Facebook, Instagram and Youtube for daily updates on new arrivals!
https://www.facebook.com/rjvguitars/
https://www.instagram.com/rjvguitars/