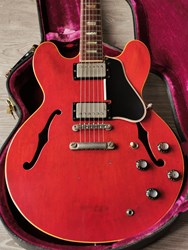 1963 Gibson ES-335 Cherry Red Block Inlays with CITES & Case
Here is a true dreamguitar. A vintage 1963 ES-335 in cherry red finish. This guitar was delivered by Gibson in 1963 as a Bigsby equipped guitar and is now a hardtail and you can see the ''snakebite'' the Bigsby left on the top. The tone and feel in this guitar is amazing. The wonderfull finish checking in the original finish is visible all over the guitar, the original tuners, PAT nr pickups, caps, bridge, pots its all there. Just the tailpiece is a later added one obviously. Comes with CITES and black/purple hardcase.
Please follow rjvguitars on Facebook, Instagram and Youtube for daily updates on new arrivals!
https://www.facebook.com/rjvguitars/
https://www.instagram.com/rjvguitars/