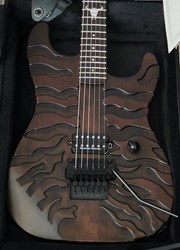 ESP LTD Burnt Tiger George Lynch Limited Run Serial# 166 of 300 with COA & Case
€
1.790
,
00
Created by legendary ESP rocker George Lynch, the new GL Burnt Tiger is outstanding with a completely carved alder body with a tiger design, a Seymour Duncan Distortion pickup, a special neckplate engraved with George's signature, and a cow skull inlay on the ebony fingerboard. (Limited Run of 300 pcs worldwide)
SEYMOUR DUNCAN DISTORTION TREMBUCKER (TB-6)
The Duncan Distortion Trembucker is the F-spaced version of our original high output humbucker. It incorporates a massive ceramic magnet and hot coil windings to deliver well-balanced rock and metal tones that have rih upper midrange harmonic content. Great for hard hitting, crunchy rhythms, and searing lead tone. Pair it with the SH-6n Distortion neck pickup, or with the SH-2n Jazz, or SH-1n 59 model for a versatile combo. Pair with the Jazz neck model for a versatile humbucker setup, or use the Duncan Distortion neck model for the a killer high output setup.Trembuckers have wider pole piece spacing, perfect for symmetrical positioning under the strings of guitars with a tremolo or wide spaced hard tail bridge (2 or wider from the center of the Low E to High E directly over the bridge pickup).
Excellent condition, just some wear around the volume knob. Comes with Certificate, tools and original case.
Please follow rjvguitars on Facebook, Instagram and Youtube for daily updates on new arrivals!
https://www.facebook.com/rjvguitars/
https://www.instagram.com/rjvguitars/