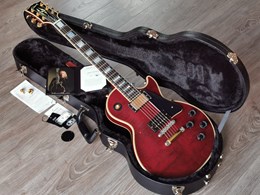 Gibson Custom Jerry Cantrell "Wino" Les Paul Custom Murphy Lab Aged & Signed
€
8.990
,
00
Here is a new unplayed Jerry Cantrell ''Wino'' LP Custom Aged & Signed Murphy Lab. Jerry Cantrell is a true pioneer. His ferocious playing and relentless work ethic have been the foundation on which grunge royalty Alice in Chains have stood for over 30 years. His meticulous playing and his approach to tone is both understated and super refined. We are super excited to present a limited run of 100 Jerry Cantrell "Wino" Les Paul Custom, made to replicate the Alice in Chains guitarist's iconic Les Paul Custom.
The "Wino" Les Paul Custom features classic Gibson body construction with a resonant Mahogany body topped with an awesome Plain Grain Maple top, beautifully finished in Wine Red and aged by the incredible Murphy Lab team,an all new division dedicated to the art of innovation who are highly skilled in aging guitars using the latest and most sophisticated technology and tools. Headed by legendary builder "Tom Murphy". Finished off with Aged Gold hardware these look super slick.
With a Mahogany neck and a Custom Cantrell Profile this Les Paul Custom is supremely comfortable and quick to navigate, topped with an Ebony fingerboard adorned with 22 Medium Jumbo frets, 24.75" Scale Length, 12" Radius and Custom Block Mother of Pearl inlays.
Classic Cantrell tones come courtesy of a 490R Neck Pickup and a 498T Bridge Pickup, they are incredibly dynamic and respond well to your every touch. It also features a Fishman Powerbridge piezo pickup for acoustic like tonal options.There are two volume controls (one for each magnetic pickup), and a third volume (where the bridge tone control would normally be) for the Powerbridge piezo pickup. A master tone and a three-way toggle pickup selector round out the controls, while a stereo output jack allows for discrete electric and acoustic signal routing.
Only 100 guitars will be hand-made by the expert luthiers and craftspeople of the Gibson Custom Shop as part of this very special limited run, and each will be personally hand-signed on the back of the headstock by Jerry Cantrell.
Please follow rjvguitars on Facebook, Instagram and Youtube for daily updates on new arrivals!
https://www.facebook.com/rjvguitars/
https://www.instagram.com/rjvguitars/
https://www.youtube.com/channel/UC6cy3aWO7qbgYwiLAFPioVw