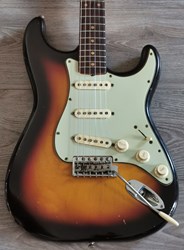 1963 Fender Stratocaster Sunburst Very Clean Amazing Find!
Here is real treasure, an all original early 1963 Stratocaster in very clean condition and with a very nice serial# 99099. No pickguard shrinking, no cracks, no issues. Neckdate is 2 FEB63B, bodydate is 1/63, pot codes 304 63 06, 3 way switch, it's all there. This is how you want them to be, ultimate collectable. It does have a later nut on it, but the original nut is included aswell as the tremolocover and a vintage Fender black tolex case.
Please follow rjvguitars on Facebook, Instagram and Youtube for daily updates on new arrivals!
https://www.facebook.com/rjvguitars/
https://www.instagram.com/rjvguitars/