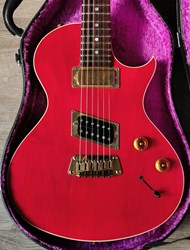 Gibson Nighthawk Standard 1996 Cherry Red Versatile Guitar with Original Case
Here is a very nice Nighthawk ST with 2 pick-ups and a maple top. It has a M-series in the neck position and an M-series slanted at the bridge. The five-position knife switch provides five tone settings. Great player with versatile tones in a small and comfortable light guitar. Solid mahogany body. The guitar has was displayed only and in very clean condition, it just has some finishwear from a guitarstand. Comes with non original case.
Please follow rjvguitars on Facebook, Instagram and Youtube for daily updates on new arrivals!
https://www.facebook.com/rjvguitars/
https://www.instagram.com/rjvguitars/