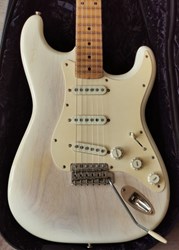 Kauffmann '56 S See Through White Aged Nitro Ash Body Handbuilt Brand New 2021
€
1.490
,
00
Here is a brand new handbuilt Kauffmann, selected woods for weight and resonance, high-end hardware by CTS, CRL and Gotoh, handwound pick-ups and true vintage mojo for an amazing price, great value for money.
This Strat has an Ash body, Kauffmann handwound singlecoil pick-ups and an Aged see through white finish, maple neck, CTS pots. When strummed acoustic all his guitars are loud and resonant and plugged in its a familiar warm fat strat tone. A Kauffmann gigbag is included.
Please follow rjvguitars on Facebook, Instagram and Youtube for daily updates on new arrivals!
https://www.facebook.com/rjvguitars/
https://www.instagram.com/rjvguitars/